Hardware tools for FTMS data acquisition & processing
Hardware tools to access the unreduced data in FTMS
Most Fourier transform mass spectrometers (FTMS) provide only processed and noise reduced data (mass spectra). Having access to the true raw data (FTMS time-domain transients) permits the most informative and efficient data processing possible. Our FTMS Boosters, compatible with all FTMS instruments on the market, enable time-domain transient acquisition and access to high quality unreduced data. Combine them with our Peak-by-Peak software for advanced data processing and data analysis to take the full advantage of your FTMS platforms!
FTMS Booster X2T
For OrbitrapTM transient acquisition
Easy add-on to any OrbitrapTM
Works in parallel with the in-built data acquisition electronics
Unlocks absorption mode FT
Full transient detection for enhanced sensitivity, (ultra-high) resolution, and duty cycle
Patented technology to maximize sensitivity through simultaneous acquisition of low/high gain transients
Detection of ion signals across the full m/z range
Thunderbolt technology for rapid data transfer
Option: stand-alone workstation with powerful data processing and data storage capabilities
FTMS Booster X2
For OrbitrapTM transient acquisition
Easy add-on to any OrbitrapTM
All capabilities of FTMS Booster X2T technology
Integrated powerful data processing computer
High-capacity (4 TB) fast SSD buffer
Rugged single-chassis system, small footpring
FTMS Booster X3
For FT-ICR MS transient acquisition
All capabilities of FTMS Booster X2 technology
Easy add-on to any FT-ICR MS instrument, as well as any OrbitrapTM FTMS instrument
Acquisition of both excite and detect waveforms in FT-ICR MS
Uniquely enables in-hardware absorption mode FT (aFT) for FT-ICR MS
Powerful on-board data processing
High-capacity (16 TB) fast SSD buffer for extended duration measurement campaigns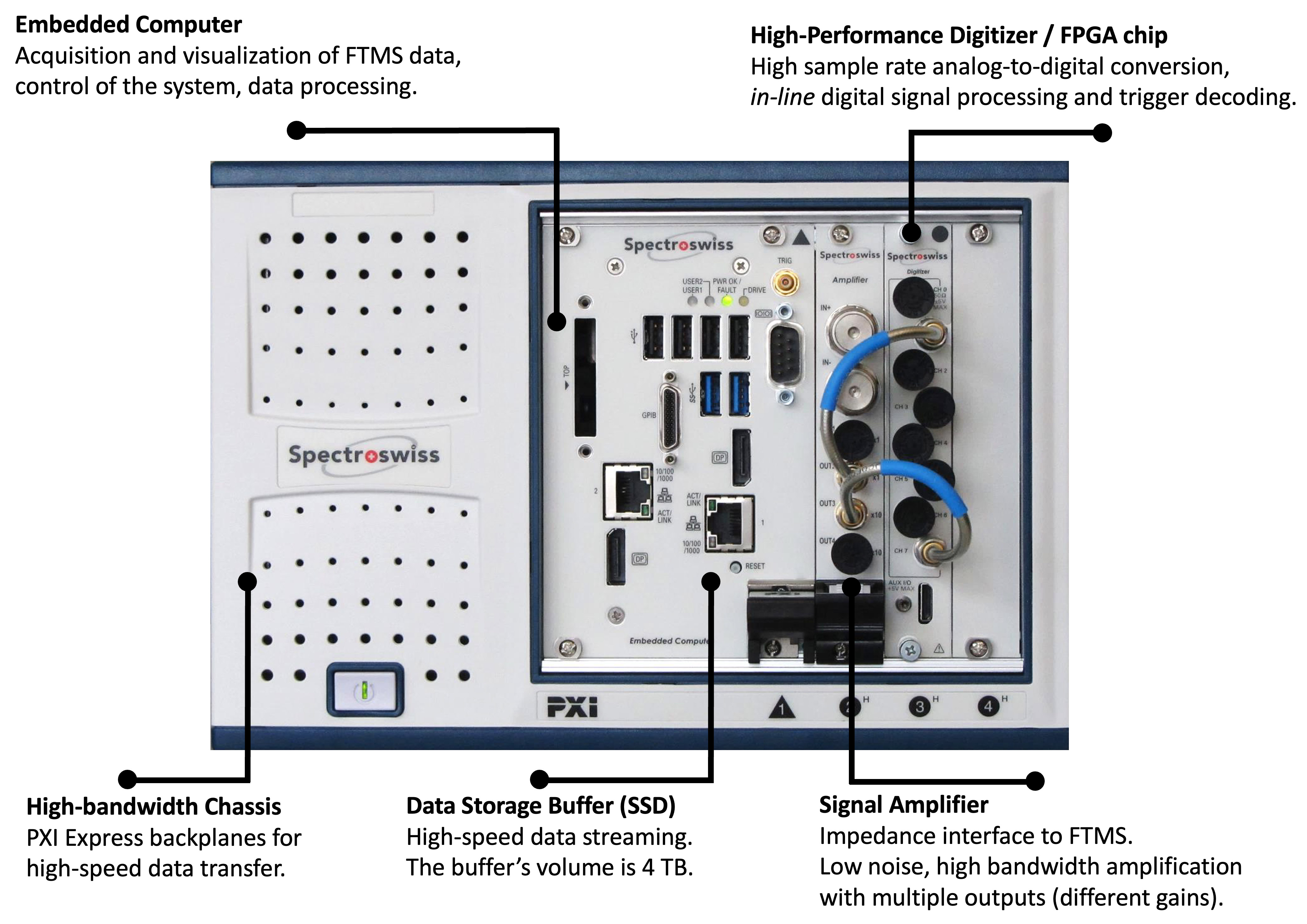 Enable artеfact-free transient recording
Phased transient acquisition (enabling FT in true absorption mode)
Аrtefact-free ion signal detection (such as phase function dispersion)
Detect all ions contributing to time-domain ion signal (wider m/z range)
Improved detection of low abundant ions (quantitation accuracy)
Data-dependent transient amplification prior to digitization
Provide (save) phased transients for post-processing (any file size)
Enhance flexibility of experiment design
Reveal experiment logistics: visualize AGC pre-scans & full detection periods
Enable acquisition of extra-long transients: full ion detection time
Maximize duty cycle: ion detection during MS/MS events (ETD, UVPD, etc.)
Allied hardware and software products and components employed in Spectroswiss products.
PXIe Amplifier

PXIe Amplifier: a low noise amplifier
A single input & 4 outputs with diverse gains: x1, x1, x10, x10
Designed and produced in Switzerland
LABVIEW Software Tools
– RemoteApp (Network Notifier, Network Queue, Agent)
– Graphics engine for GUI
– Fourier transform processing of any size time-domain data (transients)